Dr. Susan Patton is a veterinarian in North Boulder, who works to provide high quality, compassionate veterinary medicine and surgery to companion animals from dogs and cats to birds, reptiles and exotic companion mammals.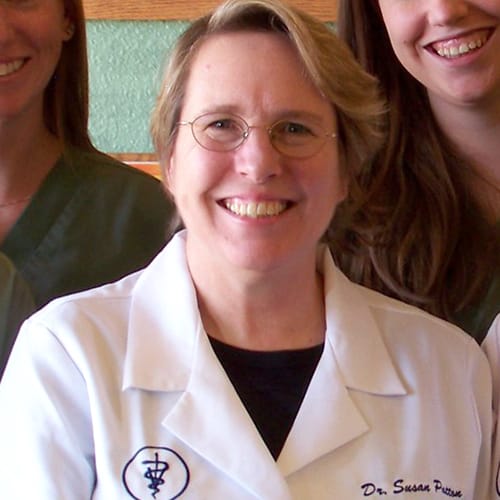 Dr. Susan Patton
Dr. Susan Patton attended Texas A&M University for both her undergraduate degree in Biomedical Science '79 and doctorate degree, Doctor of Veterinary Medicine '84. She began her career in veterinary medicine in San Antonio, Texas where she owned and operated her first animal hospital. She moved to Estes Park, Colorado in 1989 and operated Estes Park Animal Hospital.
After moving to Boulder and working both emergency and daytime general practice jobs in the area, Dr. Patton felt that she could best serve Boulder County animals by opening her own practice. With the goal of offering high quality, compassionate veterinary medicine and surgery to each dog, cat, and exotic pet seeking her care, she opened North Boulder Companion Animal Hospital in 1993.
Dr. Patton especially enjoys care of senior patients, pain management, dentistry and mentoring veterinarians with her extensive medical, surgical and hospital management knowledge.
Dr. Patton loves hiking, antiquing and travel with her husband Danny and her children, Clark, 34, Sarah, 19, and Gracie 15.
She has served on Jarrow Montessori School's Board of Trustees as well as the Board of Directors of the Colorado Veterinary Medical Association as Chairwoman of the Animal Issues Commission, Professional Education Committee, and membership Benefits Committee. 
She actively supports Blue Sky Bridge by providing medical care to Marion, their labrador retriever service dog, who aids in counseling sexually traumatized children in Boulder County.
Dr. Patton was born in Germany while her father served in the US Army and has resided in over 16 areas with her family including India and Hawaii.
Dr. Patton's family shares their home with Clifford the Big Brown Cat after he was discovered abandoned. Chip is her 4-month-old kitten rescued from a farm. Jack, the Patton-Weller family's old Blue Heeler spends his days herding Clifford and guarding his kids. Silver is their 18-year-old thoroughbred and Belle is their 14-year-old Mustang. She has owned Great Danes since first in practice and is interested in many of the neuromuscular disorders unique to this giant breed. Currently, Duke, 3-year-old Great Dane occupies her couch.